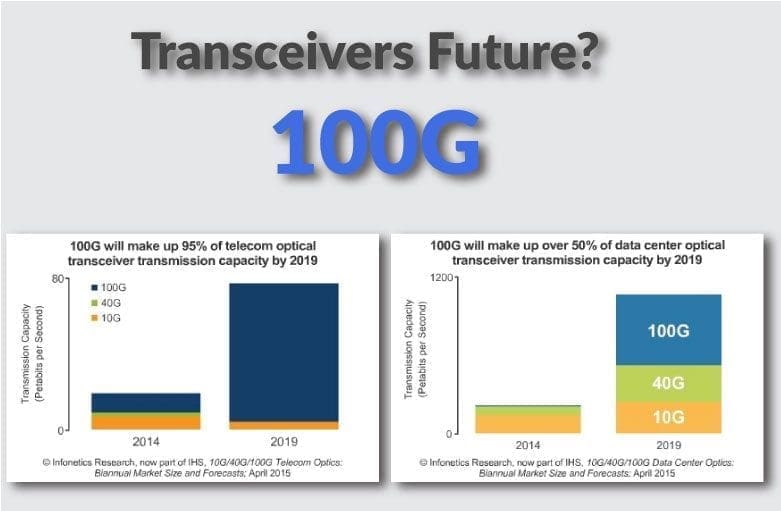 Shift to 100G: Huge but in future?
Revenues from 10Gbps, 40Gbps and 100Gbps optical transceivers sold to telecom service providers slipped 7% in 2014, to $762 million, from 2013's $820 million, according to the IHS Infonetics (NYSE: IHS) biannual "10G/40G/100G Telecom Optics" market size and forecasts report.
"The decline in the telecom transceiver market is entirely a result of vertically integrated 100G network equipment manufacturers displacing shipments of 10G and 40G telecom optical modules. We don't foresee a reversal until 2016, when CFP2-ACO solutions hit the market, followed by non-coherent 80-km solutions," said Andrew Schmitt, research director for carrier transport networking at IHS Infonetics.
Port counts for 100G WDM grew significantly last year, thanks in large part to the success enjoyed by Huawei, Alcatel-Lucent, Ciena, Cisco, and Infinera  all of whom rely on in-house technology. Infonetics estimates these five companies control 84% percent of the coherent 100G market, leaving only 16% to be served by companies using 100G coherent optical transceivers.
The growth in 100G comes at the expense of 10G and 40G interfaces. Infonetics says that 10G in carrier networks "is beginning a long decline after an epic 15-year run." Meanwhile, the market for 40G is "vaporizing," according to the market research firms.
However if telecom market is relaying on 100G vendor in-house developed coherent optics, then in biannual "10G/40G/100G Data Center Optics" report of Infonetics we see different picture. Sales of 10Gbps, 40Gbps and 100Gbps optical transceivers for enterprise and data center applications grew 21% in 2014 to $1.4 billion says IHS Infonetics (nee Infonetics Research). The popularity of 40G QSFP transceivers accounted for much of the upswing. Overall, 40G transceiver revenue jumped 81% in the second half of 2014 versus the final six months of 2013.
"40G transceivers are ramping up hard as data centers deploy 40GbE, particularly as a high-density 10G interface via breakout cables. 40G QSFP demand growth over single-mode fiber is primarily a result of large shipments to Internet content providers Microsoft and Google," said Andrew Schmitt, research director for carrier transport networking at IHS Infonetics.
Meanwhile, 100GbE module sales should finally gain momentum this year, then really take off in 2016.
"The market for 100G data center optics is accelerating, but it has yet to be turbocharged by widespread data center deployment in the way 40G QSFP optics have. This will change dramatically in 2016 as cheap 100G silicon reaches production and QSFP28 shipments surge as a result," Schmitt said. "Next year is going to be huge for 100GbE."
The market for 10-Gbps modules should remain strong, even if the market is overshadowed by the growth rates of 40 and 100 Gigabit Ethernet. However, the use of 40G modules as high-density 10G interfaces is beginning to curb growth. For example, worldwide revenue for client 10G devices was flat year-on-year in 2014, according to the report.
The data center likely will be the engine of any overall growth in optical transceiver sales over the next several years. Data centers now represent 65% of the overall telecom and datacom market for 10G/40G/100G optical transceivers. Datacom transceiver sales should grow to more than $2.1 billion by 2019, IHS Infonetics predicts.